True Trend Line indicators with divergence and TrueTL expert advisor must have



Click to enlarge

Price:

$97

$25

Availability:
In Stock
Model:
TC020wsctnt
Manufacturer:
vissionforex
Average Rating:
Not Rated



TrueTL is a trendline indicator for Metatrader 4, which draws all trendline automatically. It's different than other auto trendline solutions for MT4: counts the beginning points from the actual timeframe's historical data, and the trendline ending is depending on the last visible pullback level.

It has two additional indicator:

- Trendline alert indicator with many configuration capabilities. It's working with all visible trendline on the chart, not only with TrueTL's.

- RSI trendline indicator which draws all trendline automatically on the RSI indicator window.
Why is it worth to use trendlines? Because it's a traditional tool, not a "no name" indicator for MT4. Professional traders keep on using it, in these days too.

Originally we made a trendline tracer script for ourselves in 2010. We've experienced wide interest in it, so we decided to create this MT4 indicator with some additional metatrader indicators, and we keep on developing them, based on our customers' requests and our own ideas.
package:

TrueTL Alert V1.01.mq4
TrueTL V1.01.mq4
scmtf_rsi.mq4
scmtf_cci.mq4
![Script] Calculate Trendline.mq4
![Script] Hide Trendline.mq4

---
Trendline EA
A good Trendline EA that makes very good entrys at ALL Timeframes with trailing stop
it open buy and sell..
you will find it usefull
Expert Advisor for Metatrader 4 platform that will alert you when currency price touch/cross your trend or horizontal lines. EA is designed to work with two lines. You will have manually draw trendlines or horizontal lines on the chart.
Trendline Alert EA features
EA licence works on 1 Real account and any Demo account

EA is designed for Metatrader 4 platform

Can handle two lines: cross from below for BUY signal, the other from above for SELL signal

Sets different line colors when they are detected by EA

Sets different line colors when they are crossed up or down

EA can give alert immediately or only on candle close

Shows popup message, plays a sound and sends an email after price cross line(s)

Alert methods, sound, colors, line names, all can be configured to fit your needs

Any desirable features can be added individually for additional payment
Price for lifetime licence €80 EUR for single account
How to use Trendline Alert EA?
Draw trendline/horizontal line on the chart using Metatrader 4 drawing tools, open line settings window and set object/line name to BuyLineName or SellLineName

EA will change line(s) color after they are detected

EA will alert/play-sound/send-email when price cross the line. EA will change crossed line(s) color as well
Trendline Alert EA Inputs
BuyLineName and SellLineName
this is where you set line object names so EA would know how to identify them
BuyLineColor and SellLineColor
EA will set line colors to the values set in these variables once line(s) are detected. This is very useful as you will know that EA found your lines
CrossedBuyLineColor and CrossedSellLineColor
EA will set line colors to the values set in these variables once line(s) are crossed. This way it is easier to identify which line(s) were crossed when you go through charts
WaitForCandleClose
if this feature is set to True EA will wait for candle to close to check if lines has been crossed, otherwise EA will alert immediately
Alerts
if this feature is set to True EA will show popup message when lines are crossed
Sounds
if this feature is set to True EA will play a sound specified in SoundFile when lines are crossed
SendEmail
if this feature is set to True EA will send an email when lines are crossed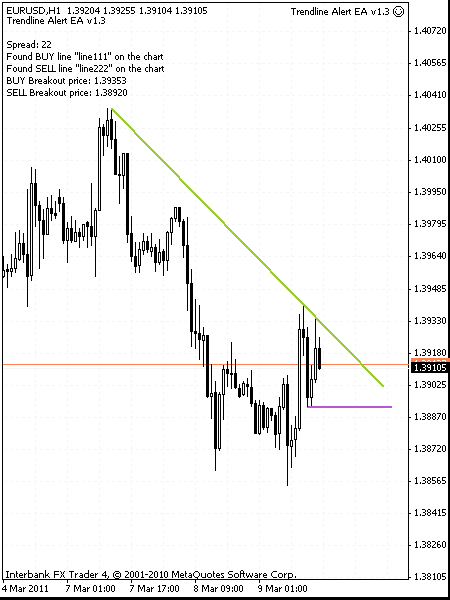 Trendline Alert EA in action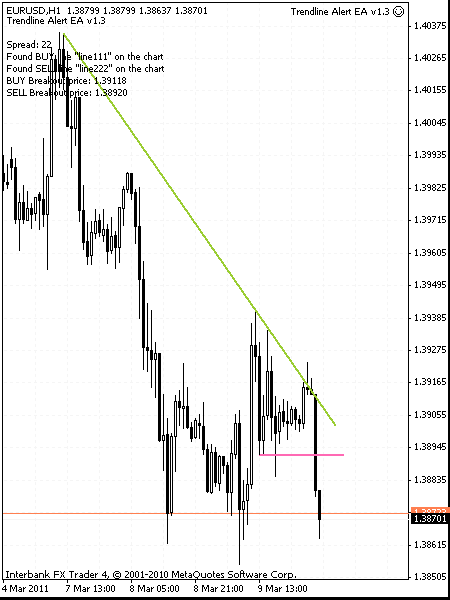 Price cross lower trendline and candle closes below. EA immediately alerts you about this event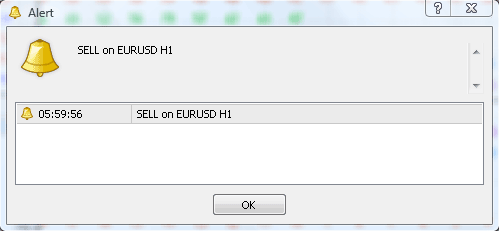 "perfect packages with a perfect offer"1 great price for 2 superbs systems!

---
Delivery to your PayPal email address within 24 Hours of payment confirmation.
Completing units:
TrueTL expert advisor
Market Sales Price: $199,but we sell lot more lower than that to share the opportunity with you!
---
Serving Professional Traders Since 2008
Once purchased I will email you the files within 20 minutes and not more than 48 hours to your email, if there a delay, please be patience receiving your files
Write Review
Your Name:
Your Review:
Note:

HTML is not translated!
Rating:
Bad
Good
Enter the code in the box below:
There are no additional images for this product.